dyeing industrial Sodium alginate Thickener
Product Detail
Product Tags
Product Description
Sodium alginate, also known as seaweed glue, is a white or light yellow particle or powder, almost odorless and tasteless. It is a high viscosity polymer compound and a typical hydrophilic sol. It is widely used in many industries such as food, medicine, printing and dyeing because of its stability, thickening and emulsification, hydration and gelation.
In the printing and dyeing industry, sodium alginate is used as reactive dye paste, which is better than grain, starch and other sizes. The printed textiles have bright patterns, clear lines, high color giving, uniform color, and good permeability and plasticity. Seaweed glue is the best size in modern printing and dyeing industry. It has been widely used in the printing of cotton, wool, silk, nylon and other fabrics, especially in the preparation of pad printing paste. It can also be used as warp sizing material, which can not only save a lot of grain, but also make the warp fiber lint free, friction resistant and less end breakage rate, so as to improve the weaving efficiency, which is effective for both cotton fiber and synthetic fiber.

In addition, sodium alginate is also used in papermaking, daily chemical industry, casting, electrode skin materials, fish and shrimp bait, fruit tree insect repellent, concrete release agent, polymer agglutination and sedimentation agent for water treatment, etc.
Sodium alginate specification:
| | |
| --- | --- |
| Viscosity (mPa.s) | 100-1000 |
| Mesh | 40 mesh |
| Moisture | 15 %   Max |
| PH |                6.0-8.0 |
| Water-insoluble in water | 0.6% Max |
| Ca | 0.4% Max |
| appearance | light yellow powder |
| standard | SC/T3401—2006 |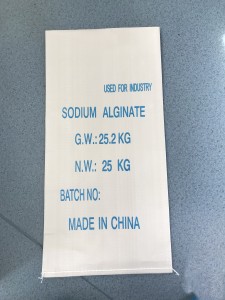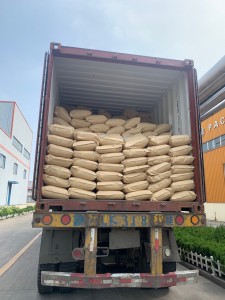 CAS no:9005-38-3
Molecular formula:(C6H7NaO6)x
Molecular weight:M=398.31668
---
---
Previous:
China wholesale China Hot Selling High Quality Sodium Silicate Powder Na2sio3 CAS 1344-09-8 Sodium Silicate
---