Different Mesh of Monosodium Glutamate 99%
Product Detail
Product Tags
Crystallization and precipitation of monosodium glutamate
The basic process of crystallization operation can be divided into several stages, such as concentration, crystallization, crystallization, crystallization and pot release.
The crystal of monosodium glutamate should be uniform, transparent and bright. The neutralizer used for the production of crystal MSG requires less impurities and a light transmittance of more than 90%.
Specific operation:
1. Crystallization When the concentration of concentrated solution reaches 30~30.5 Be '(70 ℃), crystal seeds are put into the solution for crystallization. During crystallization, the solution is slightly turbid. After a certain period of time, the grains of crystal seeds grow slightly, and small new crystal nuclei (called pseudocrystals) appear. When the concentration of feed solution increases, the growth rate of grain is smaller than that of crystal nucleus, and the whole crystal is required.
2. Whole crystal The so-called whole crystal is to add a certain amount of warm water that is close to the temperature of the feed liquid, so that the crystal nucleus is completely dissolved. The amount of water added should not be too much until the newly formed small crystal nucleus is dissolved to prevent the crystal seed from melting. Continue to concentrate after crystallization, and if new nuclei appear again, conduct crystallization for many times.
3. During the crystallization process, the diluted decoloring solution (heating) shall be added according to the concentration of the feed solution to maintain the concentration in the pot at a low supersaturated state, so as to ensure the continuous growth of crystals and less generation of new crystal nuclei. The process of promoting grain growth through feeding is called crystallization. After feeding, prepare for discharging when the grain grows to the required size. Before discharging, warm water at the same temperature shall be added in advance to reduce the concentration to 29-39.5Be. After discharging, put it in the concentrate storage tank, and centrifuge it immediately. The mother liquor after centrifugation still contains a large amount of monosodium glutamate, which can be incorporated into the next batch of neutralization solution for treatment.
4. Drying and packaging
Crystals separated by centrifugation must be dried. At present, the drying methods used include box drying room, vacuum box drying, airflow drying, conveyor belt drying and vibrating bed drying.
Crystallized monosodium glutamate requires uniform particle size, so the dried crystals should be screened by vibration to remove the oversized or undersized crystals, so as to make the grain size more uniform.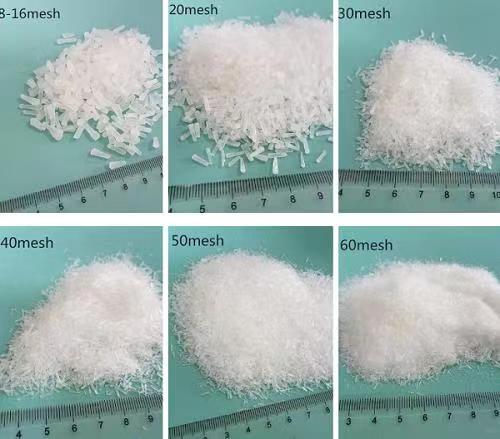 Monosodium glutamate (MSG)
Specification:
Molecular formula
C5 H8 NO4 Na H2O
Content
99%
Transmittance
98%
Chloride
0.1%
Sulfate
0.05%
Iron
5ppm
PH
6.7-7.5
Heavy metals
10ppm
Uses : Flavour enhancer for foods in concentration of 0.2-0.9% in normally salted food. Food Additive. Used with sugar to improve palatability of bitter drugs. Laboratory reagent.
Looking for ideal Msg Monosodium Glutamate Manufacturer & supplier ? We have a wide selection at great prices to help you get creative. All the Msg Flavor Enhancer are quality guaranteed. We are China Origin Factory of Where to Buy Msg. If you have any question, please feel free to contact us.
Product Categories : Food Additive
---
Next:
Factory Customized Factory Price Anhydrousfor Detergentsodium Metasilicate Pentahydrate for Detergent
---