Sodium metasilicate pentahydrate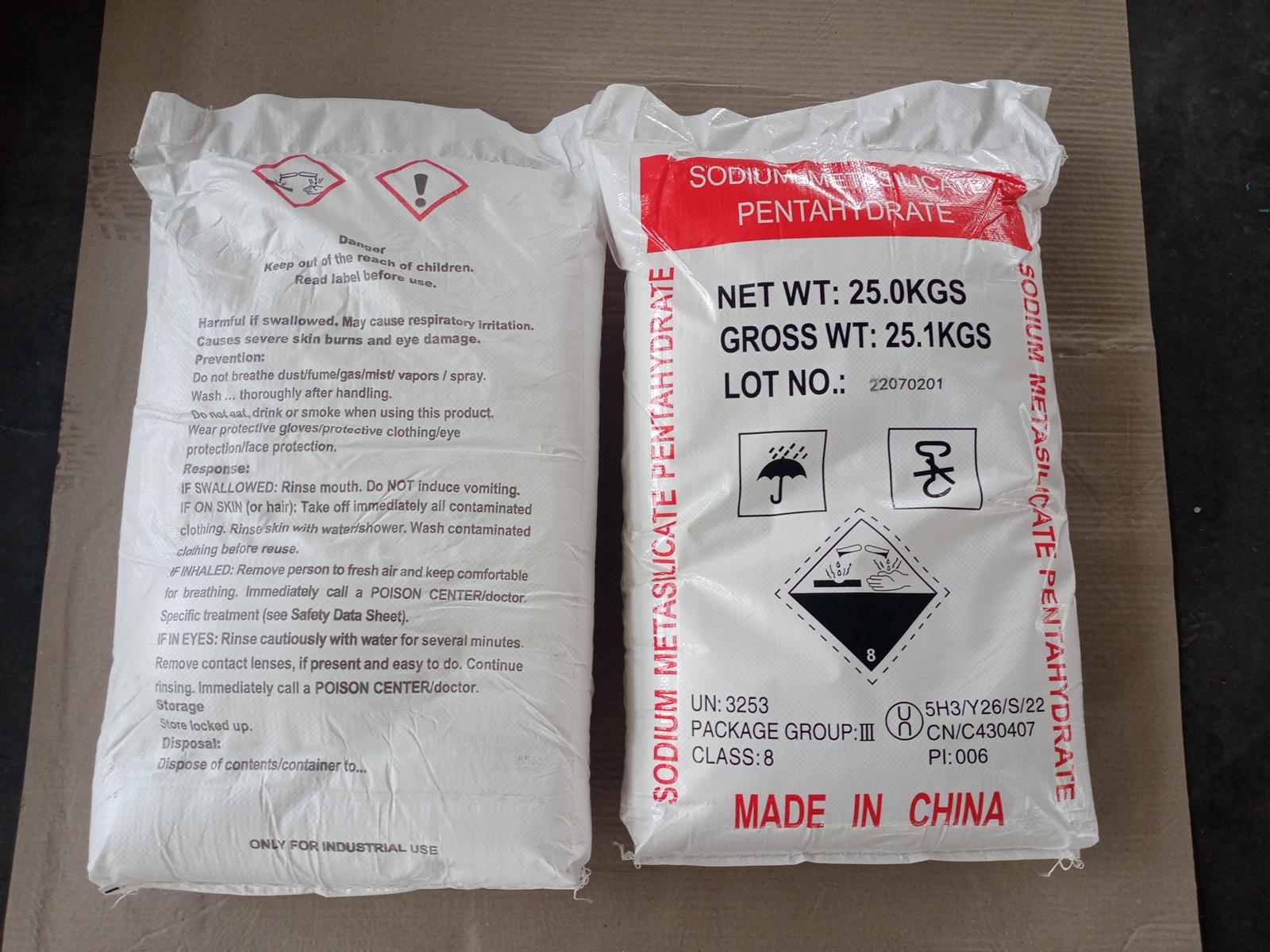 Among the varieties of sodium metasilicate, the most widely used and typical is sodium metasilicate pentahydrate. The molecular formula of sodium metasilicate pentahydrate crystal is usually written as na25io3 ・ 5H20, which is actually a tetrahydrate of sodium dihydrosilicate with two cations, with a solubility of 50g/100g water (20 ℃) and a melting point of 72 ℃. Sodium metasilicate pentahydrate has the general characteristics of sodium silicate and sodium metasilicate, and has a certain binding capacity of calcium and magnesium ions, especially the binding capacity of magnesium ions is greater than 260 mg mgco2/g (35 ℃ min). In terms of production process, sodium metasilicate pentahydrate can be summed up in three forms: first, the "continuous granulation method",
Sodium metasilicate solution is passed through the granulation crystallization device to directly and continuously produce particles of the required size. The quality index meets the requirements of hg/t2568-94 standard. The appearance of the product is spherical particles, with high whiteness and good fluidity. It is a high-end product. This method is suitable for large-scale production, but it is difficult to master because of its strong technicality. First, the "crystallization dehydration method" and "crystallization crushing method", "crystallization dehydration method", also known as mother liquor circulation method, is to add sodium metasilicate solution to crystal seed or mother liquor for cooling and crystallization, and then dynamically dry and screen after centrifugal dehydration to obtain powder and granular products. This method is difficult for large-scale production, but the product appearance and fluidity are relatively good, and the physical and chemical indicators can also meet the requirements of hg/t2568-94 standard. "Crystallization crushing method" is to concentrate the sodium metasilicate solution to the required concentration, guide the solution to crystallize into blocky solids by adding crystal seeds and additives, convert all free water into crystalline water, and crush the solid into finished products. The advantages of this method are that the investment is small, but the damage to the crystal structure is relatively serious, the requirements for the climate environment and control conditions are relatively harsh, the labor intensity is high, the whiteness of the product is low, and it is easy to absorb moisture and agglomerate, The physical and chemical indexes generally cannot meet the requirements of hg/t2568-94 standard. The use of granular products is dust-free, which can meet the export requirements: the powder and granular products produced by the latter two methods use large dust, and the export is limited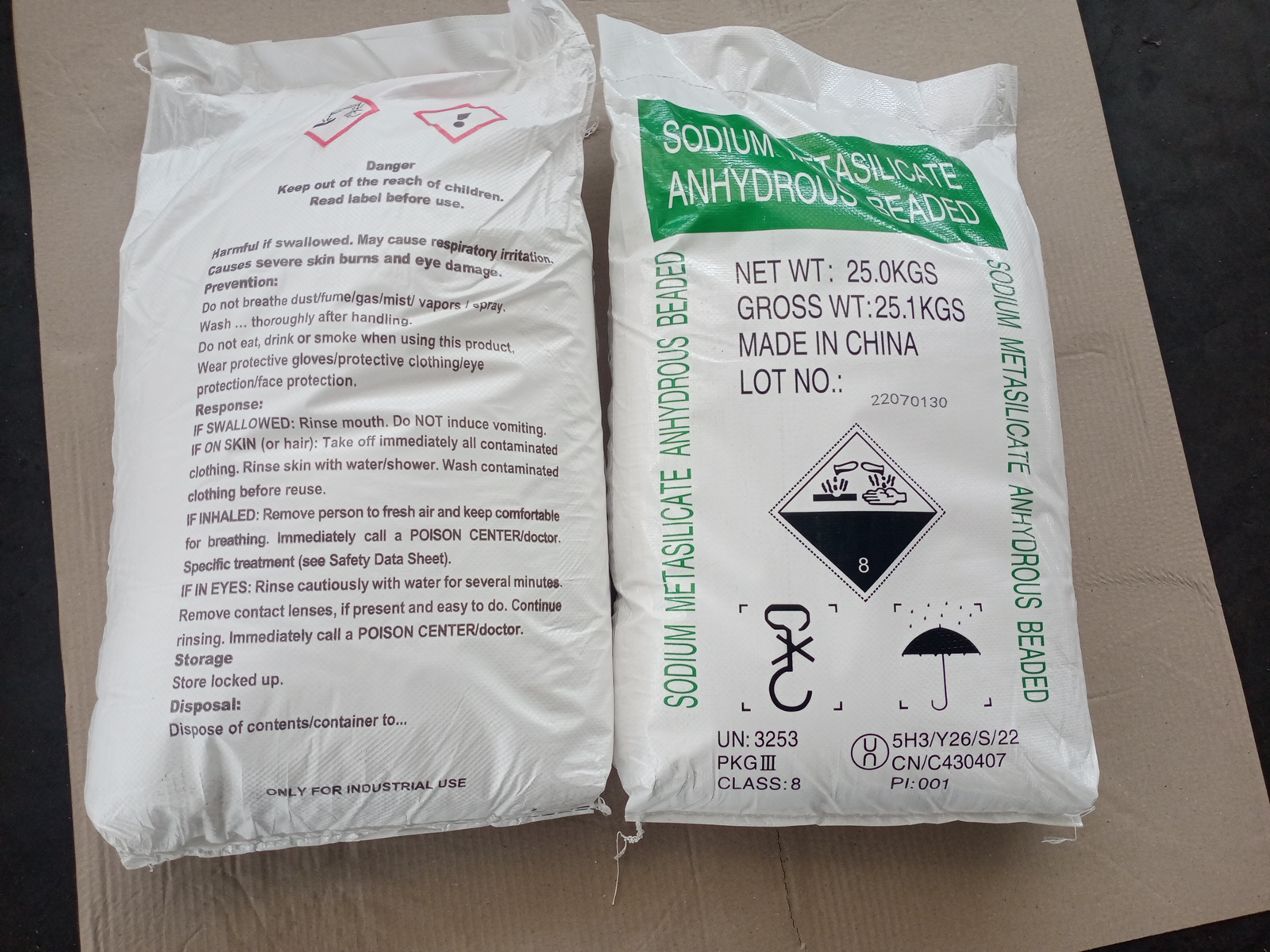 Anhydrous sodium metasilicate molecular formula Na2SiO3, pH value is about 12.4, melting point is 1089 ℃, density is.0.8-1.2g/cm3, dissolution rate in water is fast, and vitrification will not occur. Anhydrous sodium metasilicate has better application performance than hydrated sodium metasilicate in some fields. Anhydrous sodium metasilicate has uniform particles, large specific surface area and high oil absorption value, which is conducive to the removal of oil stains. The total alkali and silicon dioxide content of anhydrous sodium metasilicate is ≥ 94%. Compared with hydrated silicon metasilicate, it improves the binding capacity of Ca and Mg ions, and plays an important role in promoting the softening of hard water, adjusting and stabilizing pH value, improving the performance of surfactants, improving decontamination, dispersing the eluted dirt, and maintaining a good powdery structure. Anhydrous sodium metasilicate will not precipitate crystal water, and shows special compatibility and stability to organic chlorine, peroxide and bleaching synergist in detergent. The washing aid effect is significantly better than hydrated silicon metasilicate and 4A zeolite. Based on the strong ability of anhydrous sodium metasilicate to chelate magnesium ions and 4A zeolite to chelate calcium ions, the two have complementary advantages in anhydrous sodium metasilicate-4a zeolite binary additives, which have sufficient chelating ability of calcium and magnesium ions, and have excellent performance in the synergistic effect of surfactants. Washing powder manufacturers will add a large amount of anhydrous sodium metasilicate
The application fields of anhydrous sodium metasilicate and hydrated sodium metasilicate intersect, but in the fields sensitive to crystal water, anhydrous silicon metasilicate will be selected instead of hydrated silicon.
---
Post time: Aug-04-2022